Who We Are

Media Specialist: Shanna Pavlak
Media Clerk: Susan Lohmueller
Panterelementarymediacenter@gmail.com

Hours

7:30 a.m. to 2:00 p.m.
---
---
Important school links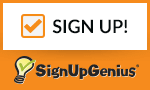 ---
Mission
The mission of the media center is to aid students in becoming life-long learners, responsible users of information, enthusiastic users of technology, and avid readers.
---
Vision
The media center is integral to the school and curriculum. It should be a place that supports the curriculum, that promotes 21st century learning and that serves as an information hub for students and teachers. It should be a welcoming and fun place that teachers and students enjoy visiting. The media center should provide students and teachers with access to the best collection possible and the most innovative technology available. The media specialist should also serve as a teacher of information literacy and responsible digital citizenship. The media specialist should also serve as a partner and collaborator to teachers.


---